Upcoming Board Meeting Notice
The Board meets in the William P. Hobby Jr., Building at 333 Guadalupe Street in Austin, Texas.  Board meetings are held in Suite 225 of Tower 2.
Telephonic Board Meeting April 3, 2020
Due to unforeseeable circumstances with technical difficulties, the TSBDE Board Meeting for April 3, 2020 is cancelled.  We will update this website when a new meeting is scheduled.  
From Executive Director Dr. W. Boyd Bush, Jr.: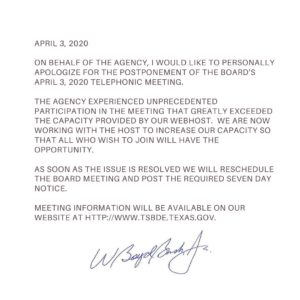 Instructions for Public Comments
If you wish to address the Board during the April 3, 2020 Board Meeting, please fill out the virtual form completely and submit it prior to speaking. You will be called during the Public Comments portion of the meeting. Testimony time is limited as determined by the Board Presiding Office. Please follow the link below to be taken to the Public Comments Virtual Form:
https://forms.gle/XiCVaqai5J1k3vZN6
Future Board Meetings will be held in Hobby Building Room 225:
June 5, 2020
September 11, 2020
December 11, 2020 
Upcoming Committee Meeting Notice
Upcoming Stakeholder Meeting Notice
There are no Stakeholder meetings currently scheduled.
Board Staff last convened a Stakeholder Meeting on Friday, February 1, 2018 at 1:30 p.m. to discuss topics related to dental practice.